Greek Islands All inclusive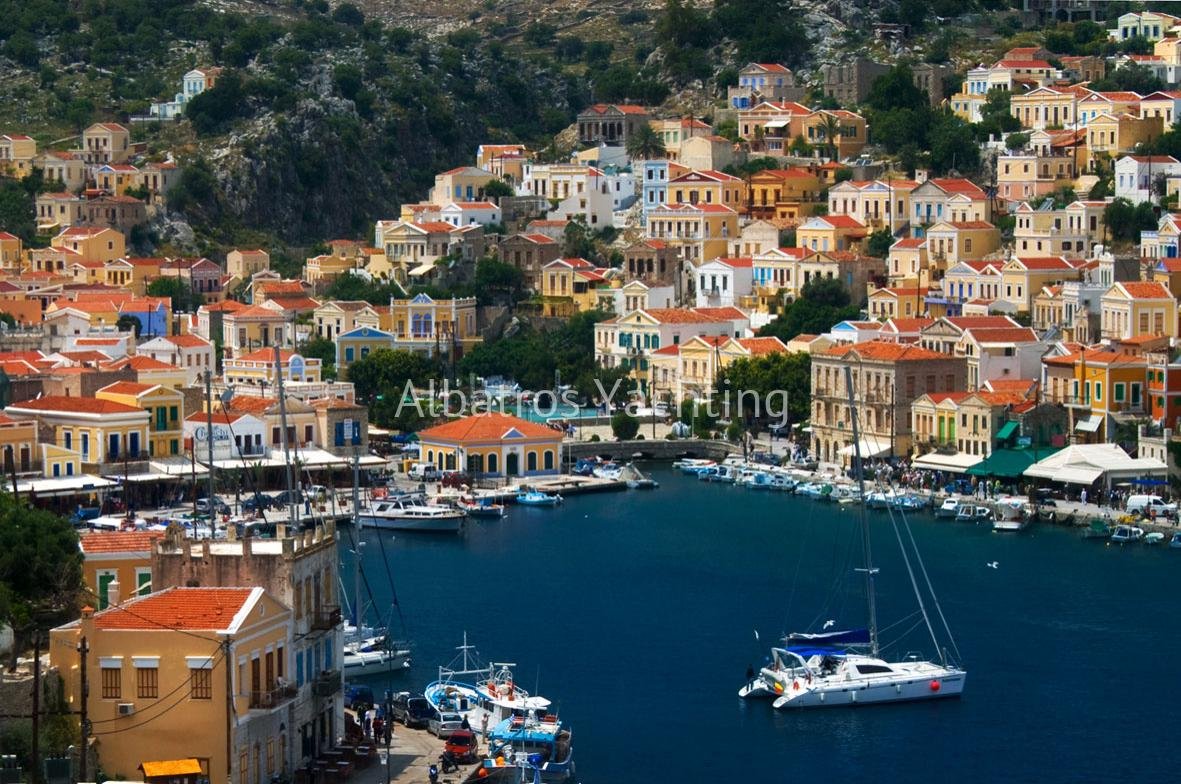 Prices
April

629 €

May

629 €

June

699 €

July

749 €

Agust

749 €

September

699 €

October

629 €
Description
GREEK ISLANDS TOUR - ALL INCLUSIVE
( RHODES – SYMI – TILOS - CHALKI - RHODES)
Every Saturday and Monday
1. Day 1: Rhodes 

Boarding starts from 16: 00. We welcome you on board with a welcome drink and answer any questions you may have. Get ready to be spoilt by our crew! Look forward to the atmosphere in the evening and for an exciting, unforgettable trip. Rhodes is one of the most beautiful Greek Islands. Walk through the cobbled streets and see the magnificent Grand Master's Palace, the moat and the walls of the Byzantine Church and admire the mosques. We will stay overnight in the port of Rhodes.
2. Day 2: Rhodes - Nanou Bay - Symi
After port formalities have been completed, usually between 10:00 and 13:00 we set sail for Symi. Symi is a small, beautiful Dodecanese Greek Island. Enjoy lots of swimming in Nanou Bay. Around 16:00 we cruise into the port of Symi. Get your cameras ready to take lots of photos of this fairy tale like Greek village. Dinner will be served onboard, however, please tell the captain in advance if you wish to dine in the stunning port of Symi. We will stay overnight in the port of Symi.
3. Day 3: Symi - St George Bay - Panormitis/Pedi
After breakfast we leave from Symi port, approx 09:00 or 10:00. We will stop at St George Bay or one of the other many beautiful bays around the island for lunch and swimming. Late afternoon, around 16:00, we will set off for Panormitis, on the southern part of the Island. Here you can visit the Monastery of Archangel Michael Panormitis, a Greek Orthodox monastery built in the early 18th century. The monastery is still inhabited by monks today and receives visitors from all over the world. Each year many Greeks pay homage to St Michael of Panormitis. Music (loud) is not allowed here. Depending on the sea conditions we may have to cancel Panormitis and go to Pedi instead. We will stay for dinner and overnight here.
The very attractive and inviting Island of Symi has something on offer for everyone and of course plenty of cultural highlights. When the sun goes down over Symi, there is hardly a more romantic place than here on the waterfront.
4. Day 4: Symi - Takrogiali Bay - Tilos
After breakfast, we cruise towards Tilos. The day will be spent at Takrogiali Bay. Tilos is surrounded by crystal clear seas, beaches, caves and high, rocky mountains. Around 16:00, late afternoon, we will enter Tilos Harbour where you will get a chance to stretch your legs and explore the town. There is an abandoned village, in the centre of the island, called Mikro Chorio. You can visit here by bus or taxi. Why not visit in the evening for a relaxing drink.
We will have dinner and spend the night in Tilos Harbour.
5. Day 5: Tilos - Trakhia Bay - Chalki Port
Depending on the weather conditions we will start cruising, between 06:00 and 10:00, for the beautiful island of Chalki, located north-west of Rhodes. Chalki is the perfect destination for peace and privacy, tourism is not yet developed. The island is famous for its crystal beaches. We will spend the day in Trakhia Bay or one of the other beautiful bays nearby. Later afternoon we move onto Nimporio. Nimporio is the main port of the island and the only village. The beach promenade has many cafeterias and tavernas. The church is also worth a visit, mass is between 19:30 - 20:00.
We will stay for dinner and overnight here.
6. Day 6: Chalki Port - Anthony Quinn Bay - Kalithea Beach
An early start today heading back towards Rhodes Island. Breakfast will be served either on the way or at Anthony Quinn Bay, depending on the weather conditions. The actor Anthony Quinn purchased part of the Island while he was filming 'The Guns of Navarone' here and the beach has been named after him. Later, we will cruise to Kalithea Beach and spend the rest of the day, have dinner and stay overnight.
7. Day 7: Kalithea Beach - Rhodes Port
We will set off between 09:00 - 10:00 for the New Marina in Rhodes. You will have the day free to spend in Rhodes. There is one of the best preserved medieval towns in the world and a UNESCO World Cultural Heritage Site. Dinner and overnight will be spent in Rhodes New Marina.
8. Day 8: Rhodes Marina - End of Tour

Enjoy your final delicious Mediterranean breakfast onboard before your cruise comes to an end. Disembarkation in Rhodes at 09:00.
GENERAL NOTES: 
Prices are given in EURO. Prices quoted are per person on the basis of two people sharing a double cabin. An additional single supplement of 70% will be charged for those staying in a single cabin.  Towels are not provided on board.
RATES INCLUDE:
* Accommodation on the gullet, crew, fuel, harbour fees, transit log, cleaning, service, use standard yacht equipment. 
* Meals are included (breakfast, lunch, 5 o'clock tea, dinner and water during meals). 
* Non-alcoholic drinks (coke, lemonade, juice, soda water and bottled water 10:00 - 22:00). *Alcoholic drinks (ouzo, wine, beer 12:00 - 22:00). 
* Clean bed linen and bath towels on arrival.
* Yacht insurance.
* Air conditioning (08:00-09:00 – 13:00-14:00 – 18:00-20:00 - 22:00-00:00). 
RATES EXCLUDE:
* 5% tip, per passenger for the crew, entrance fees, optional land tours and personal expenses are not included. 
* Please bring beach towels for use on deck.
* Guests need to have their own individual travel insurance. 
* Flights, airport transfers, and other transfers are not included.
* WiFi is available 08:00-09:00 and 18:00-19:00. 
The WiFi is NOT part of the package but is provided as an extra service and cannot be guaranteed!