Med Tour Marmaris All Inclusive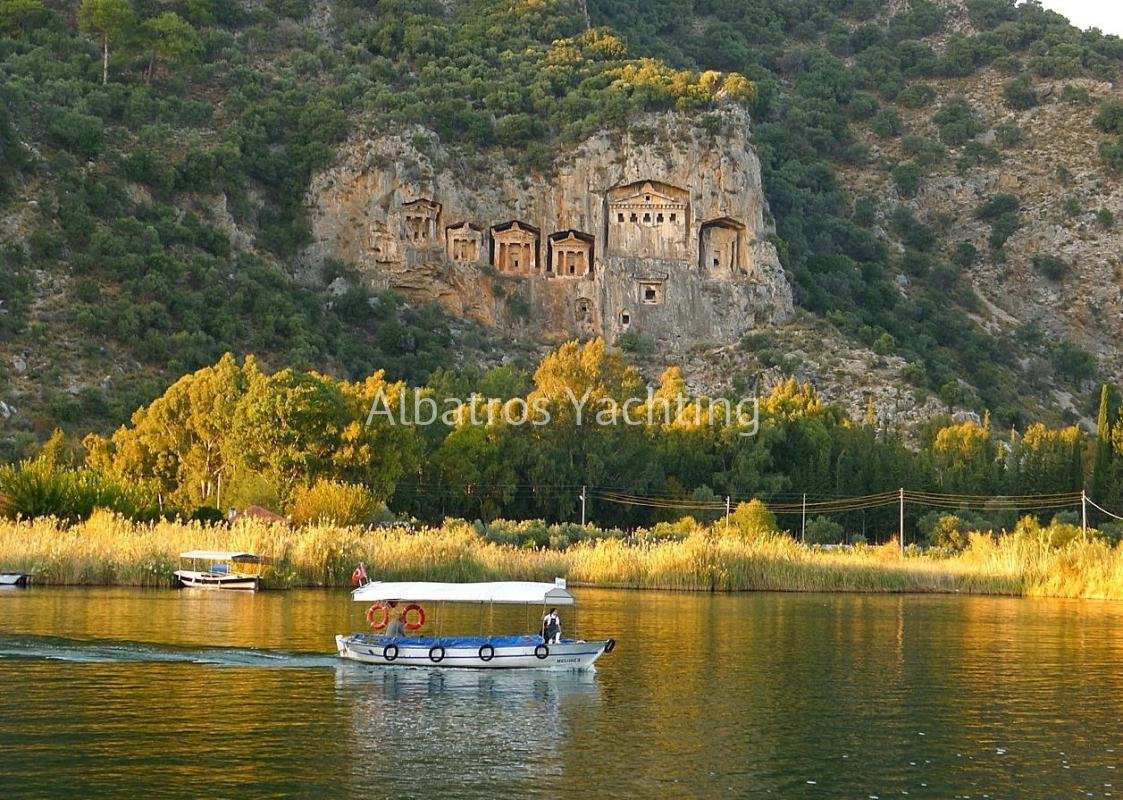 Departure Days
Cmtesi-Prtesi
Prices
April

429 €

May

429 €

June

565 €

July

599 €

Agust

655 €

September

559 €

October

429 €
Description
MED TOURS - ALL INCLUSIVE - FETHIYE TO MARMARIS (7 days 6 nights)
Day 1: Fethiye Harbour
Sunday: All passengers will meet at our office at 15:00 where you will be taken aboard your floating home for the next week. Dinner and overnight will be in Fethiye Harbour, however, if everyone has arrived and are in agreement we can start our cruise.
Day 2: Ağa Limanı
Monday: We set sail for the stunning bays in the Gocek Bay area. Enjoy the beautiful turquoise bays, crystal clear seas and fantastic views. Dinner and overnight will be spent in Ağa Limanı.
Day 3: Ekincik - Dalyan
Tuesday: An early start for the beautiful Ekincik Gulf. After dropping anchor in a peaceful bay, you'll have the choice of either staying on board, or taking an optional trip to Dalyan and Caunos, where you can take a river boat trip to see millennia old tombs built high in the rock face, explore the ancient city of Caunos, take a mud-bath, and relax on Turtle Beach.
Day 4: Marmaris
Wednesday: Setting sail after breakfast, there'll be time for swimming and a leisurely lunch at Turunç Bükü or at beautiful Cennet (Paradise) Island, before arriving in Marmaris for dinner and the night. Marmaris is one of Turkey's most popular tourist resorts and has a large marina. While you are here visit the old town and fortress, shops and the bazaar in the city centre.
Day 5: Tersane (Shipyard) Island - Manastir (Monastery) Bay
Thursday: An early start for the beautiful Göcek Bays area, stopping at Tersane Island, a natural port that was used as a shipyard in Byzantine times. After lunch, we will reach the peace of Manastir Bay. This bay is also known as Cleopatra's bath, the ruins of an old hamam where Cleopatra was supposed to bathe can be seen. Dinner and overnight will be spent here.
Day 6: Gocek - Manastir (Monastery) Bay
Saturday: The day will be spent cruising different bays and islands in the Gocek Bay. Overnight will be spent in one of the bays.
Day 7: Gulf of Fethiye
Your last chance to swim and relax. In the afternoon we will be heading to the port of Fethiye for your last night onboard.
Day 8: Fethiye
After a final breakfast on your boat, it is time to say goodbye to your fellow passengers, crew and gulet.
RATES INCLUDE:
* Meeting and a cold drink
* Information about your boat and the route
* Turkish breakfast, lunch, afternoon tea and dinner
* Soft drinks; tea, water, coffee
* Hand and bath towels in each cabin (these towels are only for use in the cabin). Please bring your own towels for swimming and sunbathing
* Canoe, snorkel, mask and flippers, fishing rods, table games (the equipment on the boat is for common use)
* Operating costs (fuel, service, crew, insurance, port costs and taxes)
RATES EXCLUDE:
* Alcoholic and non-alcoholic drinks (tea, water, coffee free of charge)
* Land tours