MOTOR YACHT CHARTER in TURKEY
The dictionary defines a motor yacht as 'a motor-driven boat equipped for cruising'. But a motor yacht available for Turkey yacht charter is much more than that!
The word yacht originates back to the mid 16th century from the Dutch word 'jaghte' or 'jaghtschip' (fast pirate ship), jaght meaning hunting and schip meaning ship. Today, the word 'yacht' covers a wide range of vessels run by either power, sail or both. A yacht that is powered by engines only is referred to as a motor yacht.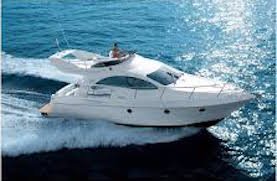 A motor yacht is a broad term that covers a number of different styles, however, they all have a luxurious, comfortable feel. The cabins can be likened to boutique hotel suites. Usually, the motor yacht can be operated in all seasons and conditions with a helm on the bridge and another inside. Large indoor lounges and relaxation areas on deck are often styled to suit entertainment needs.
Motor yacht charter in Turkey: the average size is usually around 44 feet (13.41 metres) but can range from as little as 27 feet (8.23 metres) to as large as 80 feet (24.38 metres). The average cruising speed is 20 knots, however, maximum speeds can range between 25 to 30 knots depending on the model. They are most fuel-efficient travelling at speeds of 8-10 knots, which is the average trolling speed.
As agreed by the majority of boat enthusiasts the worth of a motor yacht is determined by the dimensions of the flybridge, sun deck and covered aft deck.
When purchasing a motor yacht there are a number of factors to consider; cost, slip rental fees, where the yacht will be stored and yearly maintenance costs.
Why should I rent a Motoryacht?
There are always great deals to be found for blue cruise yacht holidays in Turkey and the Greek Islands. Motor yachts are perfect for people who require a more luxurious boat or who do not have too much holiday time and still wish to explore different destinations in a short period of time. Due to their high engine power, motor yachts can travel at speeds up to 25 or 30 miles per hour, therefore making it possible to travel long distances in a shorter time. Visit the Greek Islands during your sailing holidays in Turkey.